Hanoi real estate market | Q3 2018 quarterly report highlights
VIETNAM'S GDP GROWTH RATE
"Continuing impressive trend of the first half of 2018, Vietnam's 9 months GDP growth was recorded at 6.98% y-o-y, the highest growth rate in 8 years. CPI in the period is up 3.57% from a year earlier. The current level has approached the targeted CPI of 4% for the entire year set by the National Assembly.
By the end of Q2 2018, export value reached USD 178.9 billion, an increase of 15% compared to previous year while import valued at 173.5 billion, up by 12% y-o-y. As a result, Vietnam recorded a trade surplus of USD 5.4 billion. The key drivers behind export growth were mobile phones, computers, electronic equipment, which accounted for 39% of total export value, rose by 18% y-o-y. Meanwhile, import growth was driven by 32.4% increase in heavy metal, 23.9% increase in gasoline.
Total value of foreign direct investment in Vietnam, including newly registered capital, increased capital, and capital contribution & share purchase reached USD 25.4 billion, equals to 99.6% of last year's. Real estate sector attracts the second most FDI injection with USD 5.8 billion, accounting for 23% of the total, in the period. This figure is noteworthy as real estate typically only accounts for 6-9% of total FDI. Hanoi to be the country leader in FDI approvals in the first half of 2018, with USD 5.8 billion, equivalent to 22.9% of the total.
In the first nine months of 2018, Vietnam welcomed 11.62 million of international tourist arrivals, up by 22.9% y-o-y. Asian tourists still dominated the tourism market, accounting for nearly 78% of total number of international tourist arrivals. China (3.89 million) and South Korea (2.56 million) not only are the top two highest nations in term of number but also the leaders in growth of 29.7% and 49.6% respectively."
CONDOMINIUM MARKET
In Q3 2018, there were nearly 5,000 units launched from 24 projects in Hanoi, down by 24% q-o-q. Launched projects in this quarter are mostly located in the West and South of the city together accounting for more than 70% of total new launched units. Noticeably, Hanoi residential market shows clear trend of decentralization with new projects in new residential areas such as Thanh Tri and Hoai Duc Districts.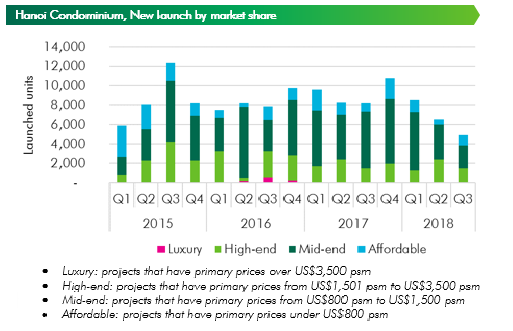 In terms of sales performance, 4,300 units were sold during Q3 2018, down by 27% q-o-q. This time of the year is when the sales rate is not high. Additionally, the buyers are still waiting for new projects launching at the end of the year to make decision making slower sales performance. Although there has been a decrease in the number of sold units in this quarter, the fact that many projects which will be launched in the last quarter have received a large number of booking shows good market sentiments. The projects which are about to launch at the end of the year are those that developers have carefully researched and surveyed the market for long time.
In terms of pricing, the average secondary pricing in Q3 2018 has slightly adjusted from 0.1% to 1.5% q-o-q, averaging US$ 1,118 USD/m2. Some recently completed large scale projects with sufficient amenities have experienced an increase in secondary price of 3% - 5% – higher than market average.
In the last quarter of 2018, large scale projects in mid-end segment such as Vin City Ocean Park, Vin City Tay Mo Dai Mo will be launched, emphasizing the leading position of this segment in the market. It is expected that mid-end segment will make up more than 60% of total new launch in 2018. Providing that new large-scale projects will be launched in Q4, the sold units are expected to increase accordingly thanks to strong demand from both end-users and investors, local buyers and foreign buyers.
LANDED PROPERTY
In Q3 2018, there were 646 new launched units, coming from four projects including Terra Hao Nam, Hanoi Garden City, Phoenix Garden Dan Phuong and Hanssip Phu Xuyen. Terra Hao Nam and Hanoi Garden City with smaller scale and decent distances to the city center have recorded positive sales performance. In terms of sales, 521 units from registered projects sold in Q3, significantly improved compared to approximately 220 units in Q2 2018.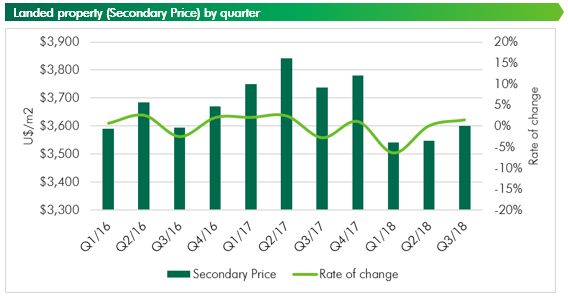 In terms of market performance, the villa secondary prices in Q3 2018 rose by 2% q-o-q to US$3,600 / sqm, including construction costs. Most of the projects expericenced an increase in sales price come from the Western region in some districts such as Ha Dong, Nam Tu Liem.
In the coming quarters, there will be more large-scale projects to be launched, including launching for the first time and the next phases of large-scale urban projects in areas such as Long Bien, Dai Mo, Tay Mo, Dong Anh.
OFFICE MARKET
There was no new Grade A and B office supply in the first nine months of 2018. In the last quarter of the year, it is expected that there will be four projects coming into operation. In particular, there will be one new Grade A office in the CBD and three new Grade B office in the West of the city.
Given that there was no new supply in the last three quarters, market performance continued to improve in both grades. For Grade A, the asking rent increased by 4.2% y-o-y staying at US$25 psm pm (excluding VAT and service charge). The remained vacant area in Grade A continued to be absorbed leading to a 4.7 ppts y-o-y decrease in vacancy rate. End of Q2 2018, the average vacancy rate of Grade A building in Hanoi stayed at 6.2% - the lowest rate since 2010. For Grade B, the asking rent slightly declined by 0.3% y-o-y staying at US$14 psm. Given the competitive rental rate, vacancy rate of Grade B significantly decreased by 4.6 ppts y-o-y – staying at 11.4%.
Demand-wise, net absorption was around 16,400 sm in the third quarter of 2018. The demand is mainly from traditional industries with requirement for large leased area including insurance, banking and finance, IT and co-working.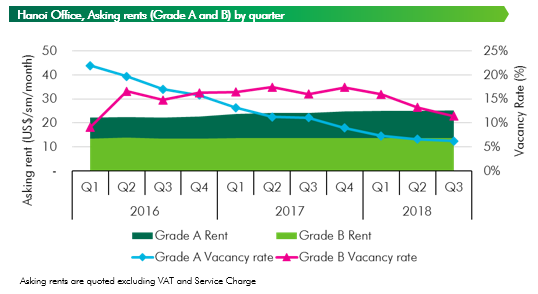 In the last quarter of 2018, the market will continue the upbeat trends with new projects in the CBD and the West. The CBD of Hanoi will welcome new project after four years. Meanwhile, the West will continue to be the major supply hub with three new Grade B projects in convenient locations. Noticeably, the market performance is expected to continue its recovery trend since new project has achieved 50% pre-commitment – which is not seen over the last three years.
RETAIL MARKET
Hanoi retail market recorded one new project in Q3 2018, Discovery Complex in the West (Cau Giay District). By the end of 2018, Hanoi retail space is expected to reach 940,000 sm, a remarkable increase of 18.5% y-o-y. By location, Midtown and the West continue to dominate the supply market with just over 60% of total retail space (NLA) in the market. This trend is likely to continue as more future projects are expected to come into operation in Midtown and the West by the end of 2018.
Due to limited supply in CBD, asking rents in CBD improved slightly, reaching US$99 psm pm, up 0.9% y-o-y and 0.4% q-o-q. More noticeably, vacancy in CBD posted the lowest rate over the last three years, recording at 0.2%.
With high pressure from future supply in 2018, non-CBD area experiences some changes in vacancy and asking rent. Midtown and the West, where majority of retail space is located, saw the average asking rent stayed at US$29, down 1.3% y-o-y. Similarly, average asking rent in other non-CBD areas decreased to US$24.1, down 2.4% y-o-y. Vacancy, on the other hand, increased in all non-CBD areas. With the largest supply of retail space, Midtown and the West recorded higher vacancy level in comparison with other non-CBD, reaching 12% vacancy, up 1.3 ppts y-o-y.
Regarding retail brands, international players continue to gain foothold by expanding in Hanoi's market. For instance, in fashion and accessories, H&M opened the second store in another shopping mall in Hanoi. The competition landscape, therefore, is predicted to be more intense, forcing local retailers to improve the product portfolios and operational process. With respect to entertainment category, foreign brands as CGV ranked first in terms of number of cinemas in Hanoi, making up around 60% of total number of cinemas. Moreover, domestic supermarkets currently dominate the shares of supermarket in Hanoi with notable brands such as Vinmart and Fivimart.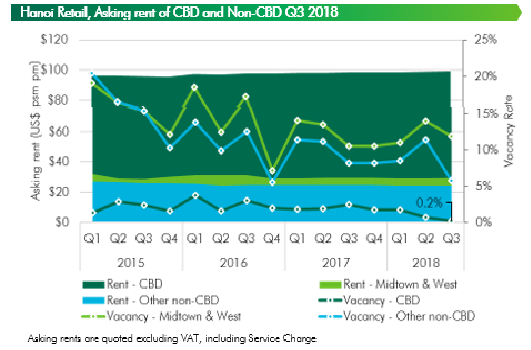 SERVICED APARTMENTS
The serviced apartments market welcomed a new supply of 200 units from Roygent Parks Hanoi in the third quarter of 2018. This project provides additional option of accommodation to customers in the West, and primarily targets expatriates based in the new office buildings in the West and in industrial parks by Noi Bai International Airport.
Operational performance generally improved in Q3 2018 in both Grade A &B. Average asking rent for Grade A increased slightly to US$ 33.8/m2/month, up 4.2% y-o-y. Grade B also experienced similar trend with +0.9% y-o-y. Without taking into account of the newly opened Roygent Parks Hanoi, the occupancy rate for Grade A decreased by 0.8% y-o-y to 84.4% while Grade B improved 0.5% y-o-y to 81.6%.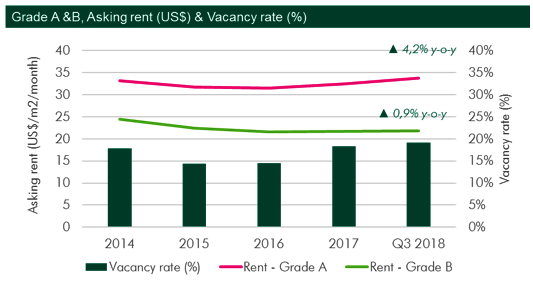 In 2019, the market is expected to welcome an additional of 724 units from four new projects including Oakwood Residence, Pen Studio, Hanoi Aqua Central and 345 Doi Can. Those projects will intensify the competition with existing supply, especially in the time of lackluster new demand for the market.
HOTEL MARKET
5-star hotel continues strong performance, total stock was approximately 10,000 rooms, down -1% q-o-q but up 1% y-o-y. Average occupancy slightly decreased -1 ppt q-o-q but increased 2 ppts y-o-y. ARR was down -5% q-o-q and -9% y-o-y. Average revenue of five-star hotels was US$100/room/night, double that of four-star and triple three-star.
According to the Ha Noi Statistics Office, in the first nine months of 2018 there were approximately 4.3 million international visitors to Ha Noi, a 20% y-o-y increase. With 43 projects coming online from 2019, pressure will increase across all grades.
VILLA / TOWNHOUSE
New supply drops, total stock was 43,255 dwellings, increasing 1.5% q-o-q and 10.6% y-o-y. Ha Dong continues to lead with 23% market share, followed by Hoai Duc. Three new projects and three new phases supplied nearly 250 dwellings. Primary stock was approximately 2,514 dwellings, down -27% q-o-q and -33% y-o-y. Sales were down -35% q-o-q and -32% y-o-y. Absorption was 31%, down -3.5 ppts q-o-q and -4.9 ppts y-o-y.
From Q4/2018 to 2019, projects such as Vincity Gia Lam by Vingroup, Athena Fulland by Vimedimex and Sunshine Wonderland by Sunshine Group will come online.
Song Chau Group.