Q3 2018 Ho Chi Minh City real estate market | Quarterly report
VIETNAM ECONOMY
Vietnam's economy retains the growth momentum: Vietnam's GDP witnessed the highest level of nine-month growth since 2011 with the growth of 6.98% y-o-y. As of Q3-2018, the GDP achieved the growth of 6.88%, lower than the 7.45% increase in the first quarter but higher than the increase of 6.73% in Q2-2018. This result indicated the timely and effective administration of the government to improve the growth across all sectors. In particular, the industrial and construction sector registered significant growth of 8.89% for nine months of 2018, the service sector and the agro-forestry-fisheries sector came next with a healthy boost of 6.89% and 3.65%, respectively. In the last quarter of the year, Vietnam's economy may face challenges due to inflation, global trade war and The Federal Reserve System (Fed) raise the dollar interest rate. However, if the existing growth rate of all economic sectors keeps its pace, it will be possible to overpass the target of 6.7% in 2018.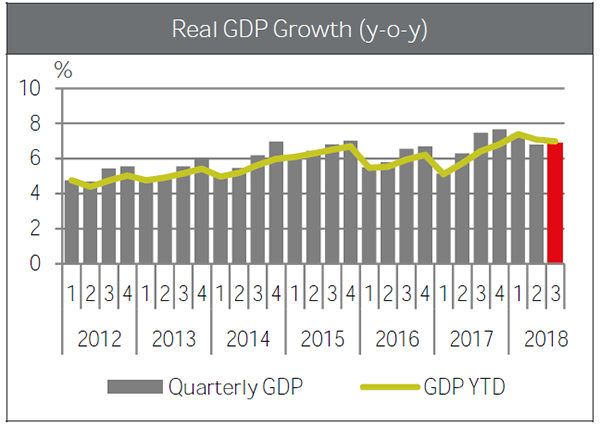 Retail turnover and international arrivals kept rising: The cumulative retail turnover in nine months of 2018 increased by 11.3% y-o-y. The total number of international tourist arrivals in this same period, according to the Vietnam National Administration of Tourism, hit over 11.61 million visitors with an increased of 22.9% y-o-y. Specifically, China and South Korea remained the largest number of visitors, with a total of more than 6.3 million arrivals.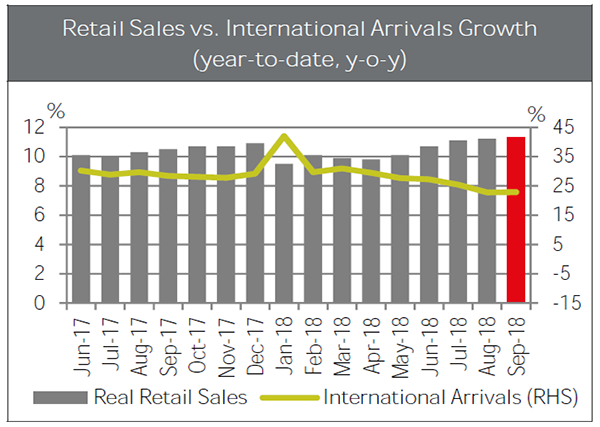 Vietnam's FDI stabilised its growth: As of September 2018, the total FDI pledged to the country was nearly US$25.37 billion, equal to 99.6% over the same period in 2017. In particular, there were 2,182 newly registered projects worth US$14.1 billion, equal to 97% y-o-y. The FDI disbursement recorded US$13.25 billion, an increase of 6% y-o-y. When it comes to the 17 investment industries, the most attractive sector belonged to the processing and manufacturing, hit US$11.3 billion and accounting for 44.6% of total capital. The real estate and retail sector remained as the second and third rank with US$5.8 billion and US$2.1 billion, respectively. Regarding of 104 investing nations in Vietnam, Japan stayed the lead with total US$7 billion investment, accounting for 28% of the FDI, Korea followed with US$5.6 billion and Singapore took the third place with US$3.6 billion. Smart City with total investments of US$4.14 billion in Hanoi by Sumitomo Corporation (Japanese), the polypropylene manufacture plant project invested by Hyosung Corporation (Korea) with total capital of US$1.2 billion in BR-VT, the additional investment of US$1.12 billion in Laguna (Vietnam) Co., Ltd. by Singapore investor in Thua Thien Hue still topped the list of notable FDI projects in this year.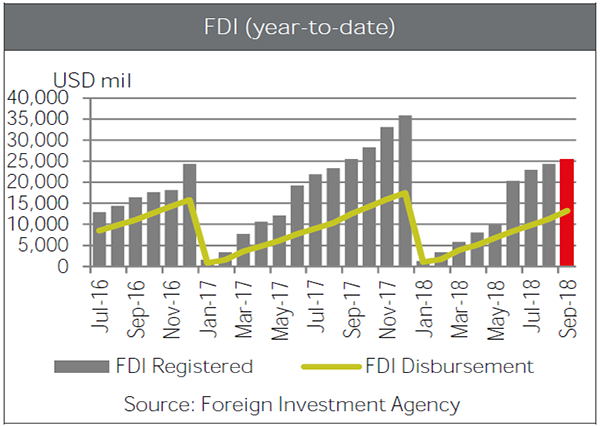 CPI trending up in Q3-2018: 3.57% is the average of Vietnam's CPI for the nine months of 2018 compared to the same period last year. In September, Vietnam's CPI increased 3.98% y-o-y and 0.59% against August, which mostly driven by the hikes in education tuition and electricity and gas cost. Amongst 11 surveyed groups of products and services, prices in the medical costs, tuition fees and the food sector in nine months of 2018 recorded the strongest growth rates at 18.26%, 7.02% and 4.09% y-o-y, respectively. The index of housing and construction materials rose by 3.73% y-o-y on average whilst the telecom services recorded a downturn of 0.60% compared to the same period in 2017, which slightly helped to stabilise the market. Given the government's attempts to control inflation, the target of CPI under 4% in 2018 is likely achievable. MOF forecasts CPI for the whole year 2018 increased from 3.73% - 3.95%. However, the pricing management still needs to proceed carefully due to the trade war and complicated global financial market.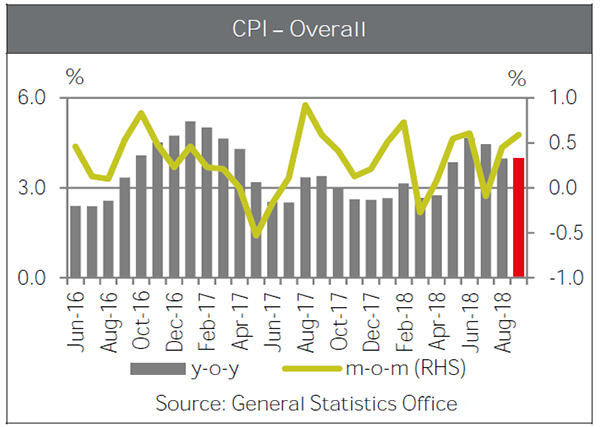 Vietnam's trade surplus continuing: The country's trade surplus has reached US$5.57 billion from the beginning of 2018 up to 15th September, 2018, according to the General Department of Vietnam Custom. The estimated export revenue in nine months of 2018 reached about US$178.91 billion, a robust increase of 15.4%, whilst the import value was recorded at US$173.52 billion, up 11.8% y-o-y. The United States and the EU remain as the two largest export markets in the context of the US-China trade war continues to escalate. Of that, the total export to the United States was US$34.9 billion, strongly increased 12.5% and to the EU was US$31.1 billion, up 9.6%, compared to the same period in 2017. The key export products comprise phones and devices, electronic appliances, garment and textile products. In the meantime, China and South Korea remained the key import sources with a total import value of US$47.1 billion and US$35 billion in the order, for gas and oil, garment, machinery, electronic equipment, computers, mobiles and other devices.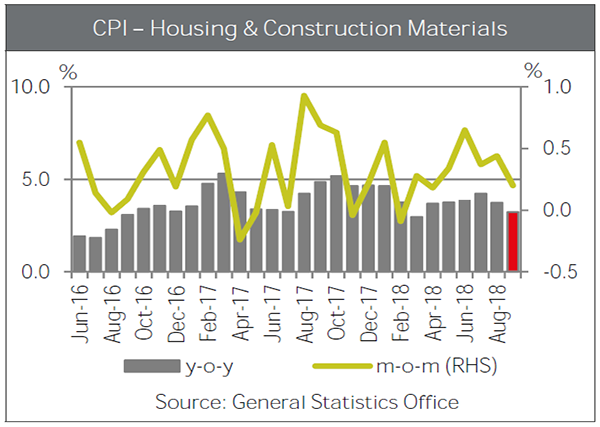 Strong surge in number of newly registered enterprises: As of end Q3-2018, there were 96,611 newly established enterprises in total, up 2.8% regarding the number of companies, and 6.7% regarding registered capital from the same period in 2017. The registered capital averaged VND 10 billion per newly established enterprises, up 3.8% y-o-y. In nine months of 2018, the number of new businesses in the real estate sector hit to more than 5,000, grew 41.6% y-o-y and accounting for 5.1% of the total newly registered enterprises. 73,103 enterprises temporarily ceased operation by end of September 2018, increasing by 48.1% y-o-y. Of the total, 50,050 enterprises temporarily suspended operation without registering or waiting for dissolution, an increase of 62.3% y-o-y.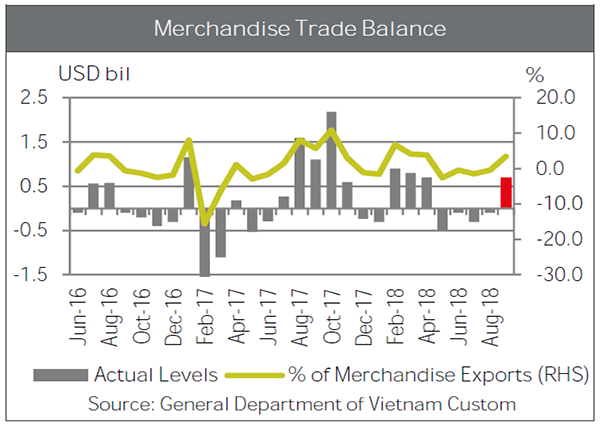 OFFICE MARKET
Supply rose: In Q3-2018, the market welcomed a new Grade B building in District 2 "Thaco Complex". As a result, the total stock of Grade A and Grade B increased 1.3% q-o-q to 1,149,767 Sqm.
Positive demand: Grade B recorded high net absorption, driven by the recent completions in the last few quarters. In Q3-2018, Grade B net absorption was approximately 14,500 Sqm, of that 9,500 Sqm was occupied by the owner of the new completion in the quarter. As of end Q3-2018, overall occupancy rate continued to improve and stood at over 95%. On the back of positive demand in the market, the occupancy rate of Grade A and Grade B keep its upward trend. Leasing demand during the quarter was driven by relocation and expansion.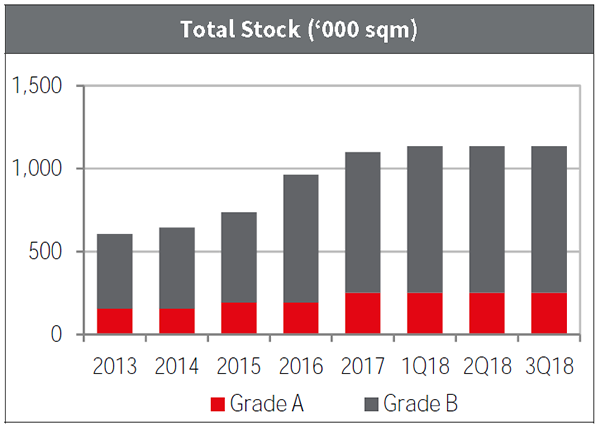 Rents slightly increased: Grade A average rent continued the upward trend. The current high level of market rent has left less room for further growth in this sub-segment. Similar to Grade A sub-segment, Grade B average rent slightly rose on the back of positive demand in the market. Moreover, several up-coming projects of 2019 started pre-launch strategies with higher-than-average rent, thanks to the better building quality and favourable market conditions.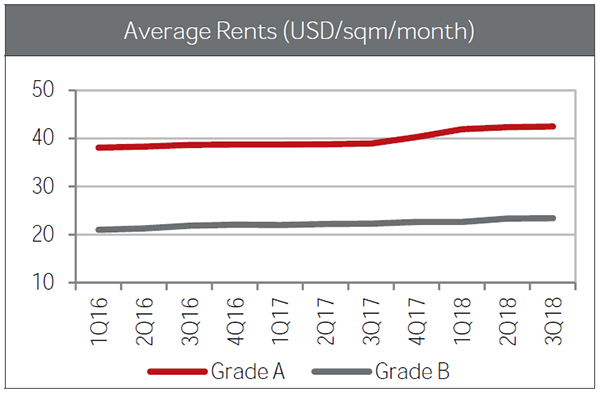 OUTLOOK
Supply limited by end 2018: Grade A and Grade B supply are expected to remain scarce to end 2018. By the end of 2020, high-quality Grade B supply will be expectedly completed and likely put pressure on Grade A sub-market. The scarce in office supply will facilitate for development of alternative solutions.
Rents keep trending up: Limited supply, high demand and better quality future supply will support the upward trend in rents in the future. Technology companies are steadily growing and playing an important role in office demand.
RETAIL MARKET
Supply increased in non-cbd: In Q3-2018, Vincom Center Landmark 81 officially opened, providing over 46,000 Sqm GFA to HCMC retail market. Besides, a shopping mall in non-CBD sub-market was converted into other function. Accordingly, as end of Q3-2018, the total stock reached 989,400 Sqm, increased 2.8% q-o-q and 15.3% y-o-y.
Demand remained positive: The decrease of 204 bps q-o-q in occupancy rate was attributed to the entrance of the new supply and the restructuring of the tenant mix in a big shopping mall in non-CBD area. F&B and entertainment tenants continued to show good performance and were the most active group of tenants in the city.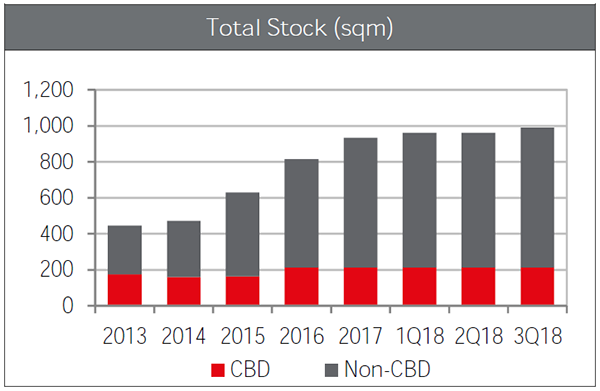 Rents decreased slightly: The overall market rent was at around US$46.2/sqm/month, slightly decreased by 0.2% q-o-q and 0.7% y-o-y. In non-CBD sub-market, a department store was reoriented both its business concept and pricing strategy, targeting lower market segment. As a result, the average rent of this sub-market reduced by 0.4% q-o-q to US$37/sqm/month.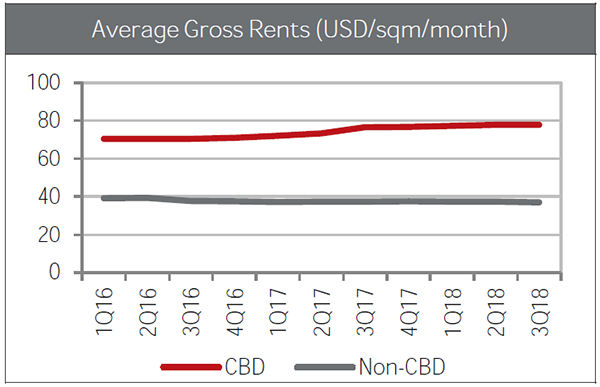 OUTLOOK
Enrichment in future supply: By end 2018, the market is expected to welcome more new supply, focusing in non-CBD area such as Estella Place (District 2), Cong Hoa Garden (Tan Binh) and

TTC Plaza Binh Thanh

. In spite of the forceful growth of e-commerce, market performance of retail market in HCMC has not recorded significant impact. Yet, in order to catch this emerging trend, future supply should be developed as a destination, providing entertainment, showroom and lifestyle experience for a diverse group of customers rather than a purely physical shopping place.
CBD continue to attract more tenants: More foreign retailers are set to enter the market, especially in CBD sub-market where the occupancy rate and rental rate likely continue the upward trend. Meanwhile, non-CBD sub-market is likely to witness the surplus in supply in the coming quarters.
CONDOMINIUM | APARTMENTS MARKET
Limited new supply: Fourteen new projects and 10 launches of new phases provided over 8,086 units. Primary supply dropped -26% q-o-q and -47% y-o-y to 18,800 units.

There were over 10,000 sales, down -30% q-o-q and -13% y-o-y. Absorption was 53%, down -3ppts q-o-q but up 21ppts y-o-y. Grade C continued to dominate with a 54% market share. Grade A sales increased 58% q-o-q. Until 2020, supply is expected to be approximately 124,000 units from 94 projects; District 9 is expected to have the largest share at 32%.

In the last quarter of 2018, large scale projects in mid-end segment such as "Safira Khang Dien, VinCity Vingroup (District 9); Grandora Hoang Quan Group (District 2); Eco Green Xuan Mai (District 7); La Cosmo An Gia Hung and Cong Hoa Garden (Tan Binh District)" will be launched, emphasizing the leading position of this segment in the market.
​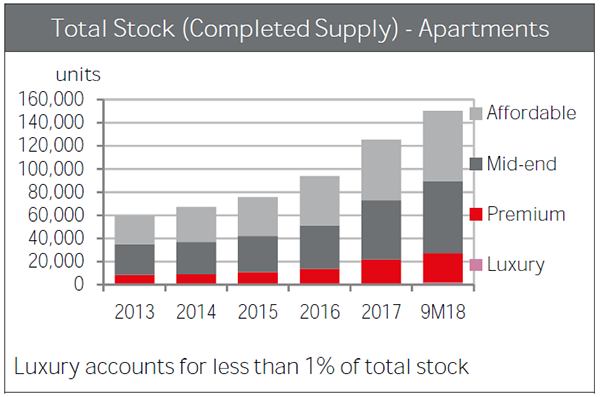 Demand in tandem with supply: Condominium take-up was 16.4% higher q-o-q, with 8,189 units. The ratio of units sold to new launches averaged around 70% in Q3-2018.
Secondary market: Condominium | Apartment price growth softened compared to previous quarters, with the slowdown more considerable in luxury apartments.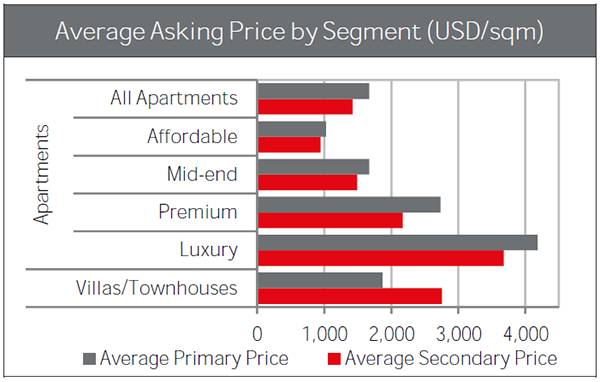 OUTLOOK
Pipeline supply for 2018 at good level: Total condominium new launches in 2018 may reach the same level as the peak in 2017, but in a more sustainable mode with the expansion of the lower-end segments.
Good sales rates: Sales rates are expected to remain high, as seen recently, with around 70% and 90% for apartment and villas/townhouses, respectively.
VILLAS | TOWNHOUSES MARKET
Supply scarce in Villas | Townhouses: Six new small-scale projects and one new phase added 814 dwellings. Primary stock was approximately 1,200 dwellings, dropping -47% q-o-q and -39% y-o-y. Transactions decreased -66% q-o-q and -67% y-o-y due to scarce supply. Townhouses with small land sizes (<75

Sqm

) accounted for 65% of sales.
Primary land supply was 1,860 plots with high quarterly absorption of 64%. Suburban districts led due to low investment entry. From Q4-2018 to 2020, new supply 20,200 dwellings/plots are expected to enter the market. District 9, Binh Tan and Binh Chanh will contribute 60% future market supply.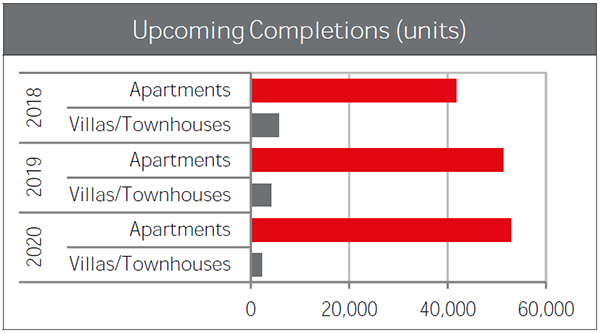 Demand in tandem with supply: Villas/Townhouses sales totalled 904 units, in line with the new supply. The demand still at a good level with around 10 units/months for each existing development.
Selling price increase: Villas/Townhouses prices continued the prevailing uptrend at 0.7% q-o-q, especially among properties priced at around US$330,000-US$550,000/unit. Prices were notably higher, with nearly 50% of the total secondary supply seeing price increases by around 2-3% q-o-q. Around 840 new Villas/Townhouses are expected to be launched in Q4-2018, mostly from the suburbs area.
SERVICED APARTMENTS MARKET
Robust upscale segment: One new project and four new phases added approximately 450 units, whilst one project withdrew. Total stock was more than 5,500 units, up 6% q-o-q and 16% y-o-y.
Average occupancy was 84%, increasing 1ppt q-o-q due to the improved performance of CBD projects. The majority of take-up was from Grade A and B. Average rent increased 1% y-o-y.
From Q4-2018 to 2020, more than 1,500 units from 11 projects will enter the market. Six are located in the CBD and will provide approximately 780 units; accounting for 50% of future supply.
HOTEL MARKET
Room rate recovery: One 5-star and two 3-star hotels closed for renovation, equivalent to 393 rooms. Room supply was down -3% q-o-q and -4% y-o-y to approximately 15,800 rooms from 127 hotels.
The low season saw average occupancy dropping -1ppts q-o-q but stable y-o-y. Meanwhile, overall ARR gained 3% y-o-y, a significant improvement in the context of increasing competition between tourism destinations. To 2020, new supply 3,000 rooms from 15 projects are expected to come online in HCMC.
Song Chau Group.