The trade war between the USA and the people's republic of China
The trade war has been going on for awhile and China is taking heavy hit, with the meeting between Xi Jinping and Donald Trump which signal a truce, the market has got into a scam, there is no truce. American firms investing in China will be fixed if not suffered heavily with counter policies from China' government. Chinese firms looking for the open market will be cornered and push back into China. At the same time, the market of South East Asia, Africa and South Americas will be an open contest zone where Chinese firms and American firms, along with Japanese and European companies competing heavily in. In these places, South East Asia will be the hottest zone, the local firms in this region, especially in countries such as Vietnam, Thailand, Singapore and Malaysia will be major participants of the contest for this region.
Due to the tighten tariffs on Chinese products by the Trump's administration, China will look into alternatives and the Middle East will be a highly important region, especially for defense, manufacturing, food and high-tech firms of China. The Belt and Road Initiative (BRI) of China can be a way out for them although Chinese trades in the planned region will be hampered by US's companies movements into these countries. With the expected recession happening in two tears, which will hit Europe hard, many European companies are investing into the regions noted above. China's dream of expanding its trade empire could be stopped in the next 5 years. This will go along with an economic crisis in China after the recession has hit the world. The scale of this crisis is to be seen in the future.
PREPARATION FOR THE WAR:
May 2, 2017: While campaigning for the Republican Party's presidential nomination, Trump says "We can't continue to allow China to rape our country and that's what they're doing. It's the greatest theft in the history of the world."

April 6-7, 2016: Xi visits Trump's Mar-a-Lago estate in Florida, where they agree to set up a 100 Day Action Plan to resolve trade differences.

April 28, 2017: The USTR is authorized to investigate whether steel/aluminium imports pose a threat to national security.

May 22, 2017: US and China agree to a trade deal that would give US firms greater access to China's agriculture, energy, and financial markets, while China gains access to sell cooked poultry to the US.

August 18, 2017: The USTR initiates an investigation into certain acts, policies and practices of the Chinese government relating to technology transfer, intellectual property and innovation.

November 8-10, 2017: Trump pays a "state visit plus" to China, where relations were considered to have warme

February 7, 2018: The US implements 'global safeguard tariffs' – placing a 30 percent tariff on all solar panel imports, except for those from Canada, (worth US$8.5 billion) and a 20 percent tariff on washing machine imports (worth US$1.8 billion).

March 22, 2018: Trump signs a memorandum directing the following acts:
– To file a WTO case against China for their discriminatory licensing practices;
– To restrict investment in key technology sectors; and
– To impose tariffs on Chinese products (such as aerospace, information communication technology and machinery).
March 23, 2018: US imposes a 25 percent tariff on all steel imports (except from Argentina, Australia, Brazil, and South Korea) and a 10 percent tariff on all aluminium imports (except from Argentina and Australia).

April 2, 2018: China imposes tariffs (ranging 15-25 percent) on 128 products (worth US$3 billion) including fruit, wine, seamless steel pipes, pork and recycled aluminium in retaliation to the US' steel and aluminium tariffs.

April 3, 2018: The USTR releases an initial list of 1,334 proposed products (worth US$50 billion) subject to a potential 25 percent tariff (list revised June 15).

April 4, 2018: China reacts to USTR's initial list, and proposes 25 percent tariffs to be applied on 106 products (worth US$50 billion) on goods such as soybeans, automobile, chemicals (list revised on June 16).

April 16, 2018: US Department of Commerce concludes that Chinese telecom company ZTE violated US sanctions. US companies are banned from doing business with ZTE for seven years

April 17, 2018: China announces antidumping duties of 178.6 percent on imports of sorghum from the US.

May 3-7, 2018: US-China engage in trade talks in Beijing, where the US demands that China reduce the trade gap by US$200 billion within two years. Talks end with no resolution.

May 13, 2018: Trump promises to help ZTE in a tweet.

May 18, 2018: China's Commerce Ministry announces that it will stop tariffs on US sorghum at negotiations.

May 20, 2018: US and China agree to put the trade war on hold after China reportedly agrees to buy more US goods.

May 29, 2018: US reinstates tariff plans after brief truce.

June 4-5, 2018: Two days of trade talks between US and China held in Beijing.

June 7, 2018: US and ZTE agree to deal that will allow ZTE to resume business.

June 15, 2018: Initial list of products reduced and finalized. List 1 now implements a 25 percent tariff on a reduced 818 products (from 1,334) and is set to take effect on July 6, 2018. List 2 of 284 new products is also announced and under consideration.

June 16, 2018: China revises its initial tariff list (25 percent on 106 products) to now include a 25 percent tariff on 545 products (valued at US$34 billion). This tariff will take effect July 6, 2018. China also proposes a second round of 25 percent tariffs on a further 114 products (valued at US$16 billion).

In early July, US President Donald Trump impose sweeping tariffs on China for its alleged unfair trade practices
THE TRADE WAR'S TIMELINE:
Day 1, July 6, 2018 – US implements first China-specific tariffs: The US Customs and Border Protection (CBP) begins collecting a 25 percent tariff on 818 imported Chinese products (List 1) valued at US$34 billion – giving effect to the first round of tariffs, which were revised and announced on June 15, 2018.

Day 5, July 10, 2018 – US releases second tariff list: The USTR releases a third list of tariffs of over 6,000 commodities originating in China (worth US$200 billion), which will be subject to a 10 percent tariff.

Day 28, August 2, 2018 – US tariffs revisions (US$200 billion): The USTR, at the direction of Trump, considers a 25 percent tariff rather than a 10 percent one on List 3, which was originally announced on July 10, 2018. The list targets approximately US$200 billion worth of goods and includes categories such as: consumer products, chemical and construction materials, textiles, tools, food and agricultural products, commercial electronic equipment and vehicle/automotive parts.

Day 29, August 3, 2018 – China announces second round of tariffs on US products: In response to potential US tariffs on US$200 billion worth of products announced on August 1, 2018, China's Ministry of Commerce proposes a range of additional tariffs on 5,207 products originating from the US (worth US$60 billion), including the following:
– 25 percent on 2,493 products (agricultural, products, foods, textiles and products, chemicals, metal products, machinery);
– 20 percent on 1,078 products (foods, paperboard, chemicals works of art);
– 10 percent on 974 products (agricultural products, chemicals, glassware); and
– 5 percent on 662 products (chemicals, machinery, medical equipment).
Day 33, August 7, 2018 – Second round of tariffs finalized and released: US releases a revised version of tariffs on a final list of US$16 billion worth of imports from China (List 2). Set to take effect August 23, announces that the US$16 billion of imports will now be subject to a 25 percent tariff rather than previously announced 10 percent.
– Five of the 284 items in the original list published on June 15 were removed, these being: alginic acid, splitting machines, containers, floating docks, and microtomes (collectively worth US$400 million in 2017).
– CN: China's Ministry of Commerce announces a reciprocal 25 percent additional tariff on US$16 billion of US exports to China, effective August 23, 2018. The tentative List 2 can be found here.
Day 40, August 14, 2018 – China files WTO claim against US, The Chinese Ministry of Commerce announces that a formal case has been lodged at the WTO against the US for its tariffs on solar panels, alleging that US tariffs have damaged China's trade interests.

Day 48-49, August 22-23, 2018 – US-China dialogue, US and Chinese mid-level representatives meet for the first time since early in the trade war. US Treasury Under Secretary David Malpass and Chinese Commerce Vice Minister Wang Shouwen met in Washington DC to discuss ways to resolve the deepening trade conflict and escalating tariffs. Discussions end with no major breakthroughs.

Day 49, August 23, 2018 – US and China implement second round of tariffs, China files second WTO complaint.

Visit this page for the full timeline:
THE BALANCE OF THE TRADE WAR BETWEEN THE USA AND CHINA (July 6)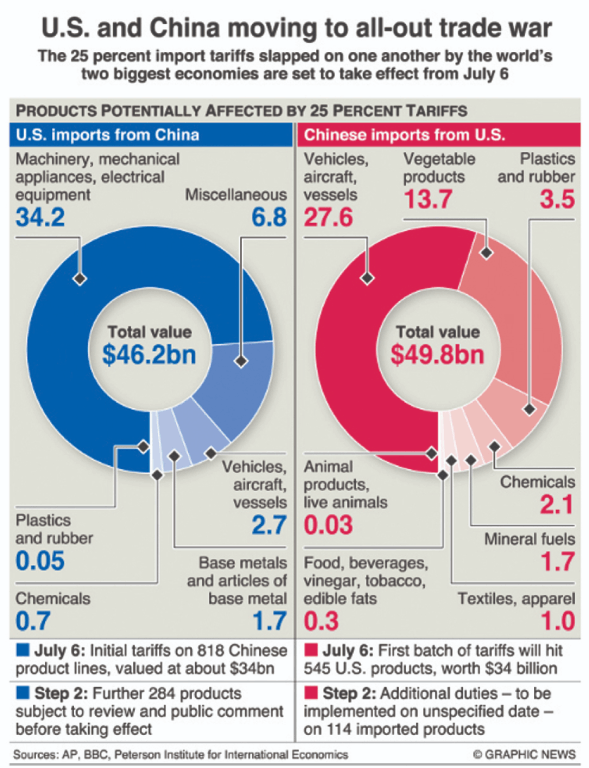 US'S AIM:
The USA wants to stop China's economy growth, hamper the GDP growth for the period according to China's 5-years economic plan.

Stopping China from expanding its trade empire, along with its power, both its soft and hard power around the world, especially into the Asia – Pacific region.

Decrease the shares of Chinese firms' investments into the USA, cut off the return flow for these firms and the expansion into different industries on US's soils.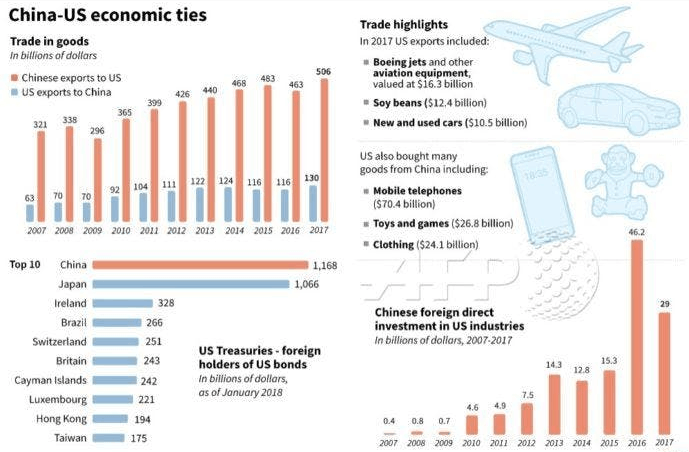 Targets the most important industries of China's economy, especially the high-tech industry and the textile industry, along with the financial services.

Decrease the dependence of the US's government on Chinese's debt, using the trade war as a tool.
– Target China's firms currently investing into the USA
– Target China's exports into the USA
– Heavily target into Chinese's corporations' stock in Wall Street and European stock markets
– Attack China's financial market, the services, the banking industry.
– Forcing China Central bank on adjusting the Yuan's exchange rate to the USD$ and enforcing new monetary policies
– Reduce China's government's reputation and weaken the China's economy
– Decrease the debt and the dependence: details and insights are not available (highly complicated)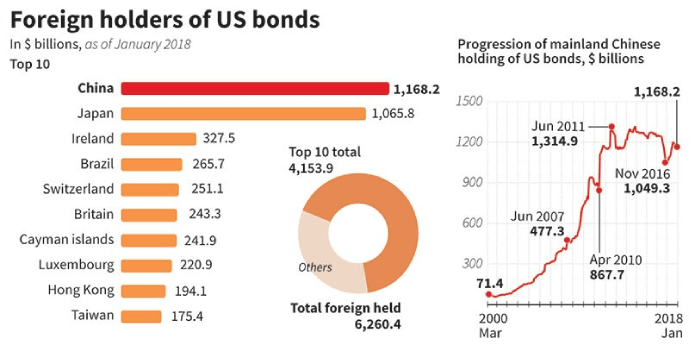 Blocking off China's big corporations from investing and getting into the US and its allies' markets. (European market, Australia's market, New Zealand's market and Canada's market)

Open the markets in the highly contested South East Asia region to the US's firm, lowering down the threat of China's competition

Undermine China's Belt and Road Initiative (BRI) by cutting down China's industries investments into members of the BRI and hitting China's economy heavily

Reduce the dependent of American's firms in China for the Asian market, switching the aim into Asia -Pacific region

Push back the Chinese corporations into relying on internal market instead of opening to the world

Build a new type of modern blockade (soft embargo) around China

Isolate China and push back its political and military expansion, especially into South Asia
– Target the economy
– The financial market of China is humbled
– Internal matters arise (rise of unemployment and inflation are highly important)
– China's reputation and Chinese's reputation in the World are decreased
– Blocking the political, military and cultural exchanges with other countries
– Blocking the outer expansion of China
Strengthen the US's economy, especially its industries and push up the GDP growth
US's GDP growth from Jan 2016 to July 2018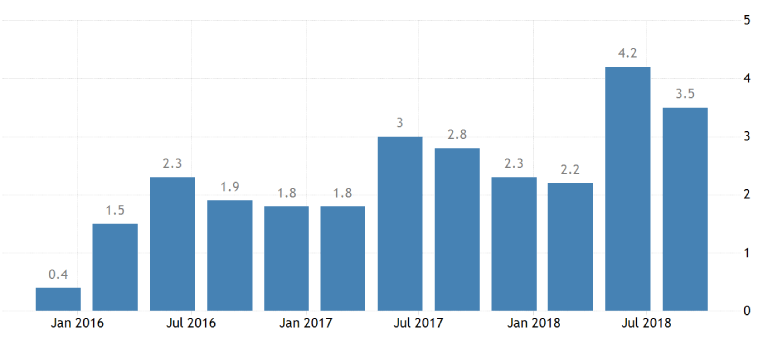 Push up the financial market in order to grow the economy and balance the newly achieved GDP growth in the future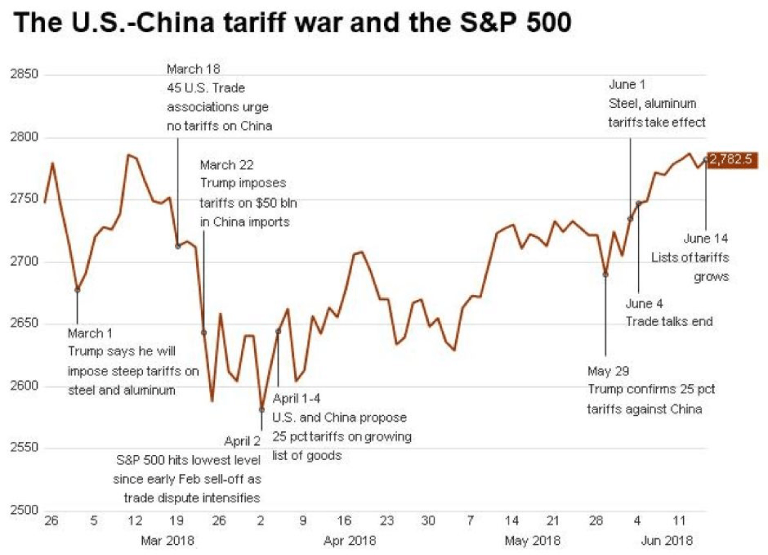 Protect the position of the USA as the World's leading power

The effect of US's trade war on China:
China's GDP growth for 2018 and predicted growth for 2019

China's GDP growth from Jan 2016 to Jul 2018, note the period in 2018 after the trade war
Forecast on effects of the trade war on US's economy and China's economy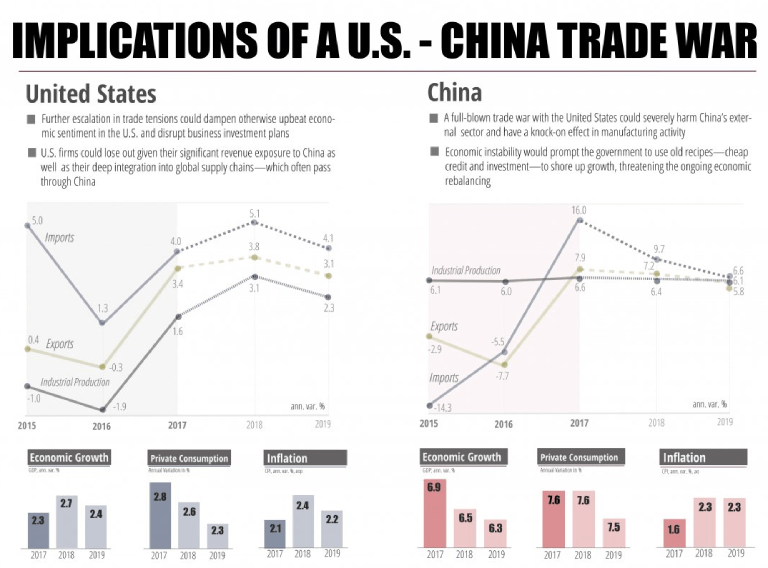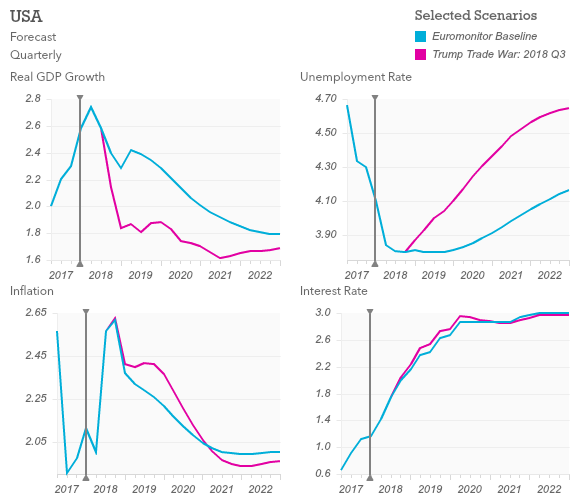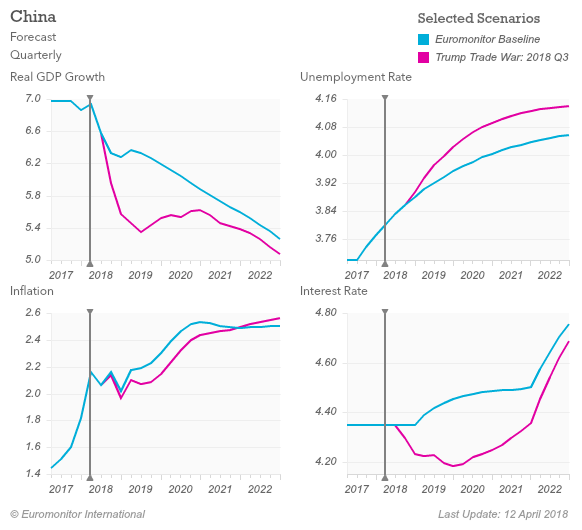 CHINA'S POLICIES
Counter the effects of the trade war

Seeking a new way to expand its soft power and hard power around the world, especially the traditional influence regions: Central Asia and South East Asia

Reassess the tariffs and policies on US's firms currently investing into China

Adjust the monetary policies to counter inflation and save the financial market in order to save the industrial firms

Impose changes on the taxation system, in order to solve the national debts problem and support its corporations

Stabilize the internal market due to the effects of the US – imposed tariffs and the leaving of foreign firms

Restructure its internal market, top priority to the financial and the top industries, especially the high – tech and manufacture industry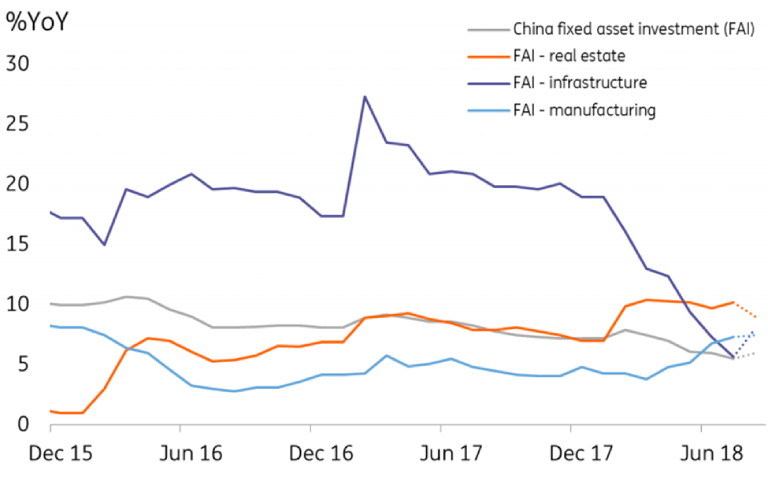 Switching the focus into new regions, especially South East Asia, North Africa and South Africa and the Middle East.

Open up political, cultural and especially trades into new partners into said regions

Strengthen the trading relations with traditional partners in Europe, Asia and Latin Americas

South America will be a top priority for Chinese firms, the investments into Central Africa will be increased greatly.

Increase the political and cultural exchanges with allies and new partners.

Change the approaching way with to the new partners, turning to respect and mutual benefits from the old "one side economic benefits" way.

Focus on working with members on the Belt and Road Initiative (BRI), strengthen the tire with them and move the investments from blocked market into them

Impose new policies to support Chinese manufacture firms to move their factories into other countries in order to counter US's policies

Seek a way to ease the distaste for Chinese on cultural level and political level in order to counter the effects of US's policies

Break off the new economic blockade

Effect of the trade war on US's firms:
Trade deficiency of China vs the USA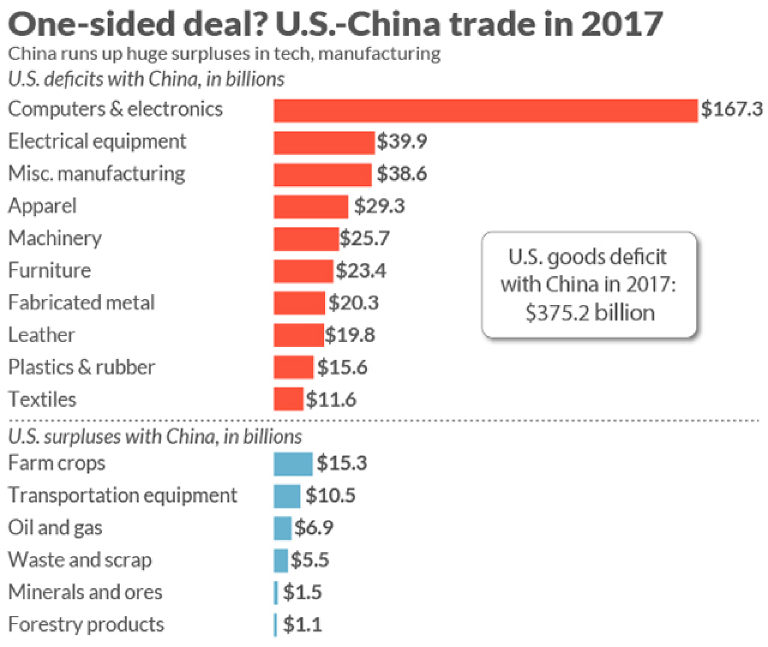 China's imports from the USA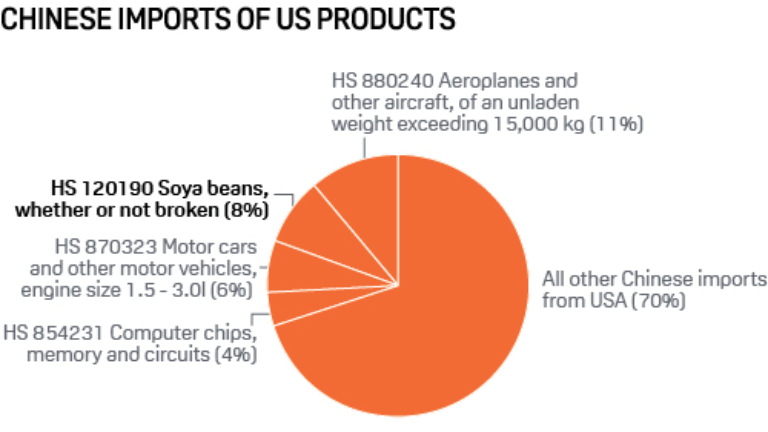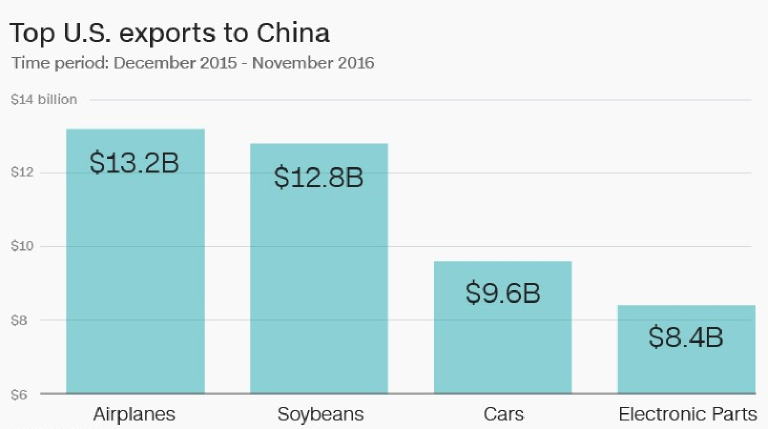 China's tariffs on the US goods compare to the US's tariffs on Chinese goods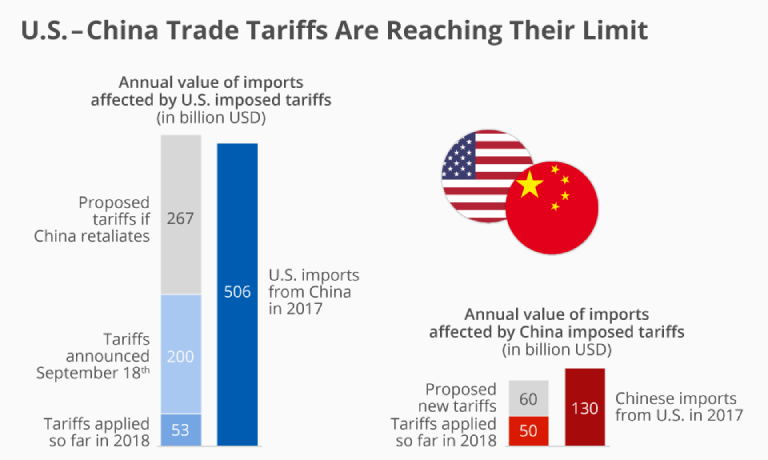 WHY THE US'S ECONOMY KEEP GROWING ALTHOUGH PROBLEMS HAVE ARISEN FROM THE TRADE WAR AGAINST CHINA
You may think with the trade deficiency between the USA and China, a trade war between the USA and China will be a one side battle. Unfortunately, this is a wrong assumption, if not pure simple logic. The USA is a free market and Americans, let alone American firms rely a lot on foreign imports in order to thrive, if not to survive in many ways.
The USA can't support its industries with its natural resources alone. Moreover, many American companies make money from trading and financial services, the banking system and the financial enterprises in Wall Street for example. The high living standard for Americans rely a lot on goods import from foreign countries. Products such as clothes, furniture, foods, water supplies, pharmaceutical products, cars, machineries and their spare parts are highly important for daily life of Americans. Most of them are imported from foreign soils. Moreover, a lot of American small and medium enterprises rely on these imports for their survival. This has made the Trump's administration's decision to impose tariffs on Chinese goods and go on a trade war a highly opposed policy.
However, regardless from these worries, the US's economy continues to grow. The main reason for this is because the trade war between the US and China is only a big part of a bigger strategy that President Donald Trump has employed.
The strategy step by step (brief summary):
Go one the offensive by get out from the TPP, dissolution of the TPP
– Go on one on one deal with countries in the Asia Pacific, especially countries such as Vietnam, Thailand, Malaysia, Myanmar, Australia and New Zealand
– Assure these countries America's good will, strengthen the relations with countries in the region
– Seizing the market in the highly contested region, open the gate way for American companies
– Increasing the resources for the trade war, get replacements for the goods from China
Get out of NAFTA and renegotiate it
– Attack Canada and Mexico, begin to impose tariffs on Canada and Mexico
– Forced Canada and Mexico to negotiate on new deals which open the market of both countries to US companies
– Enforce the tariffs and terms on Canadian and Mexican companies
– Successfully increase the resources for the USA to go on the trade war
Attack close allies in the EU, support Brexit but no specific trade deal with Britain

Impose tariffs on European nations, get out of the Iran deal cause hardships to Germany's corporations and other European firms
– Target the most stable European economies and hammer the regrowth
– Protect American interests in Europe
– Open the European market for American firms
– Enforce terms and tariffs on European goods
– Hold the hand over Europe, enrich America and increase benefits for America firms
Reassess trades with South Americas

Keep the relationships with Saudi Arabia and other allies in the Middle East

Go on offensives against China

Declare a truce with a meeting with Xi Jinping

Scrap the truce, target Huawei begin of a new trade war against China.
Report by Mr. Tran Khanh Hung - E-Mail: hungtk2040@yahoo.com
Song Chau Group.