Vacation property sector still record good absorption rates
Hanoi, September 26, 2018 – Vietnam's tourism industry has witnessed an impressive uptrend, with the number of international arrivals growing approximately 27% per annum in the past 2 years, among the highest in Asia. Such an impressive growth is driven by rapid infrastructure developments, rising popularity of low-cost carriers (i.e. VietJet Airline, AirAsia), implementation of electronic visa for 40 countries and visa exemptions for five Western European countries, increasing domestic spending power as well as government initiatives to promote tourism.
The digital evolution is changing the mechanism of the hospitality industry worldwide, and Vietnam is no exception. Developers and operators are changing their approach towards digital channels to appeal to the younger demographics, who are spending more time than ever on their smartphones, and on the Internet. The digital revolution has made significant impact to the sector with hotels spending more on digital marketing and leveraging more on digital influencers as well as other digital tools to adapt to the ever changing demand. Online travel agency ("OTA") such as the likes of Booking and Agoda is becoming the booking channel of choice for many tourists nowadays, while sharing economy platforms are also making waves in Vietnam's hospitality scene.
Globally, despite having been in the market for only 10 years, Airbnb today has more than five million listings across 191 countries whereas top 10 hotel operators currently manage about 6.1 million rooms only.1 For Vietnam, data from Air DNA (a website tracking Airbnb performances) show that, as at August 2018, Hanoi & HCMC record 21,994 active listings on Airbnb compared to supply of 17,426 rooms for 4-5 star hotels. However, average room rates of Airbnb in Vietnam are still significantly lower than those of 4-5 star hotels (US$36 vs US$106 for Hanoi, US$44 vs US$108 for HCMC). Even though Airbnb and similar platforms have been gaining momentum in Vietnam in recent years, and there have been concerns about its impact on the hotel industry, it seems to be posing direct challenges to 3-star or lower grade hotels due to the similar affordability level, rather than 4 or 5-star hotels.
Table 1: Snapshot of Airbnb vs. 4-5-star hotels in major cities (Hanoi and HCMC)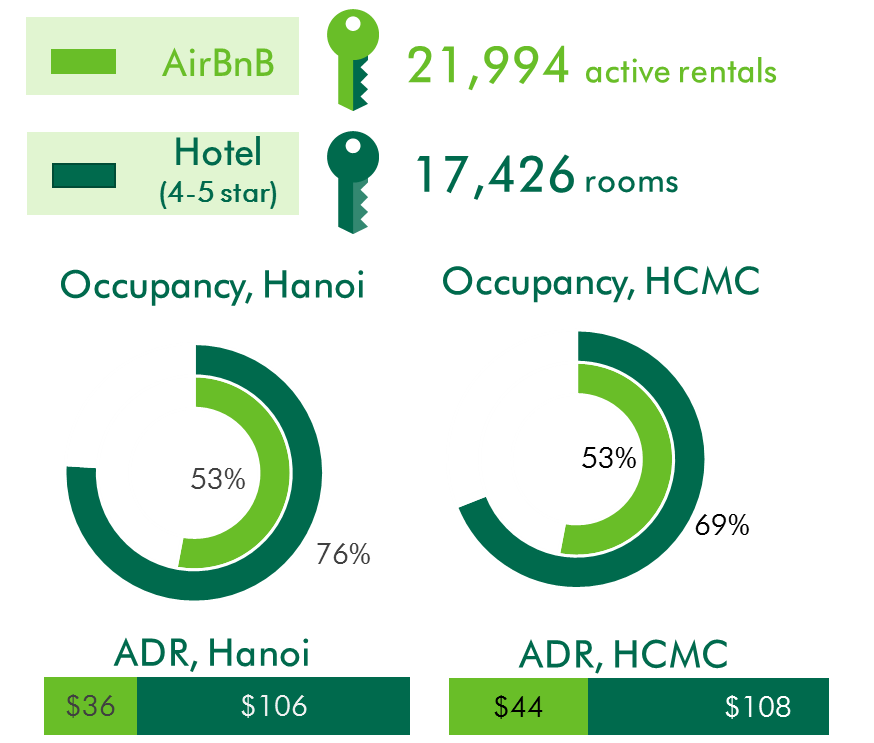 Leveraging the rapid growth of the tourism industry, vacation properties have been enjoying its popularity these past few years, serving as both an attractive investment channel and a lifestyle product for the growing number of high net worth individuals and middle class of the country. Many of these vacation properties still record good absorption rates, despite strong new supply of lodging options across the country. In comparison with some popular regional tourist destinations (such as Phuket), the total stock of vacation property units in major destinations of Vietnam is still much lower, indicating potential for further growth.
Table 2: Number of vacation property units in Vietnam & sold rates
Many key developers are still very optimistic about the future of vacation property sector. According to Mr. Le Minh Dung, Vice Managing Director of BIM Group, "Vietnam recently was ranked among top 10 fastest-growing tourist destinations by United Nations World Tourism Organization, with its vacation property sector showing improvement in both quantity and quality. We strongly believe in the potential of the tourism market in general, and of emerging tourist destinations such as Ha Long, Phu Quoc, Da Lat, Quang Binh, Sapa, Ninh Thuan and Hai Phong."

With many units soon to be handed over as well as strong future pipeline, competition in the rental market will intensify. Developers need to evaluate their marketing approach and sales policies to better appeal to the customers, while ensuring the sustainability of their business model. Even though profit commitment policies (such as guaranteed yield) have been a popular marketing scheme to attract buyers in Vietnam, it is observed that developers are now showing more prudence in their adoption of such policies. According to Mr. Robert McIntosh, Executive Director of CBRE Hotels APAC, there are instances in more developed markets (such as Thailand, Australia) where disputes between individual buyers and developers regarding the guaranteed yield program put a dent in the vacation property sector. With that being said, products of high quality, good location and high rental ability could potentially still achieve positive absorption rates. Continued growth of tourism market, suitable marketing strategies and diverse product offerings could propel Vietnam hospitality real estate market to sustain its growth prospect.
Song Chau Group.